In our business we talk a lot about the "right fit." As recruiters it is our job to find candidates that are the right fit for our clients. The concept is nebulous – hard to pinpoint or quantify. We spend a lot of time developing relationships with our candidates and clients in order to try and grasp fit, interrogating personality traits and understanding talents.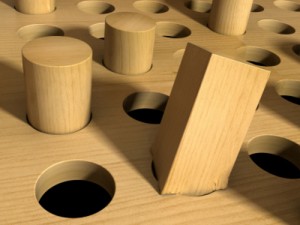 I recently overheard a colleague talk about the "wrong fit" – that when it's wrong, it's wrong, and you know it. My colleague's adamant tone suggested that knowing when it's wrong is so much easier than knowing when it's right. I started to wonder why.
I studied English Literature during my undergraduate, a last minute decision after being accepted into the school's business program. I had focused on business in high school and always imagined I would go into sales and marketing - but something didn't feel right so I chose English instead.
You might be familiar with the concept of "truthiness" coined by comedian and political pundit Stephen Colbert – the idea that truth comes from the gut, not the head. The truth feels right. Politically this might not be a great idea, but maybe personally it makes sense.
After my undergrad I decided to return to business. I enrolled at Sheridan College to undertake a Marketing Management certificate. It made sense logically. Business was practical; there were jobs, opportunities, money. In my head it sounded right, but very quickly my gut told me otherwise. It was wrong, really wrong, and I did not complete the program.
I never really thought about my undergrad as being the right fit until confronted with the wrong fit. I suppose clarity comes through contrasts.
A few months ago, tucked away in the last pages of the Harvard Business review was an article by Daniel McGinn that asks, "Do you really have to fail to succeed?" Inside, McGinn explores our culture's "reverence" for difficult experiences, and the idea that endurance and the ability to handle hardship are valuable learning experiences.
McGinn cites the recent abundance of books that discuss the virtues of resilience, but worries that this narrative is becoming too idealized, even noting the "failure fetish." McGinn quotes Marc Andreessen, a leading venture capitalist, who argues that "taking the stigma out of failure is very exciting, but we [are now seeing people] who give up too quickly…Maybe it's time to add a bit more stigma."
Kat Cole, president of Cinnabon, has a unique perspective, suggesting that it is our successes that we should be interrogating – not our failures. In a recent interview for the New York Times, Cole offers that "

I've learned to question success a lot more than failure…This approach means that people don't feel beat up for failing, but they should feel very concerned if they don't understand why they're successful. I made mistakes over the years that taught me to ask those questions."
Whether it's success versus failure, or right fit versus wrong fit, the key is reflection. It is essential to be able to understand your choices, and how they lead to success or failure.

I willingly explain my college experience to potential employers. Just because something doesn't work out the way you planned doesn't mean you didn't learn in the process. Success and failure are sides of the same coin, and you must learn to understand both sides. Finding the right fit and avoiding the wrong fit will become and clearer path to follow.